Born to Roam: Behind the Brand
Interview by Liv Thatcher
Photography Provided by Irayna Basta Kennedy


Irayna Basta Kennedy has always been inspired by California. She grew up in Sonoma, went to school in San Francisco, and after working for a few years in the New York fashion world, made her way back west to create her vintage brand, Born to Roam. These days, she lives on a ranch in Sonoma with her farmer husband where she experiments with natural dyes and raises her young daughter — who's named, of course, California.

How would you describe what you do?

I'm a vintage vendor. I was a wardrobe stylist when I lived in New York, and a lot of the same skills rolled over into vintage. A lot of the styling I did was editorial styling for photo shoots. Vintage is similar, in a way — you're curating outfits based on ideas you have. My style is very Americana California, so I feel like I'm styling a photo shoot all the time.

How did you become interested in fashion in general, and vintage fashion specifically?

I'm from a small town, and there were almost no clothing stores there when I grew up, so I got really into making my own clothes at a young age. I had an American Girl Doll and the outfits were crazy expensive, so my mom taught me how to sew clothes for my doll. Then I realized I could sew bigger versions of those clothes for myself. That spawned a love of sewing and textiles.

We didn't grow up with a lot of money, so I was always shopping at secondhand stores and sale racks. I learned that putting interesting things together was almost cooler than having nice clothes. I had a sense of style from a young age and that felt really empowering — that I didn't need to have money to wear what the cool girls in school were wearing. I could put together things that were unexpected and I could still feel really confident and cool.

My senior year of high school, I had found this box of old fabrics that was my mom's from the 70s — she grew up in San Francisco in the 60s — and I was just obsessed with the different prints and the trims. I ended up making six dresses for my girlfriends out of all those recycled materials. That really spawned my love of vintage, that feeling that you can't even get things that look like this anymore. I didn't think vintage was anything special at that point, but it really was interacting with those fabrics that I realized that there was a lot of magic in that box. Not just because they were my mom's things, but because they told stories from a different time.
From there, how did Born to Roam come to be?

I studied fashion in college. And if you go to fashion school in the United States, all you learn about is New York, Europe, and Fashion Week. For my 21st birthday, a girlfriend and I went to New York for the first time, and I just fell in love with it. I knew that that was it for me at that point. I had met a girl in a bar and she ended up being the assistant to a fashion editor at one of the international Vogues. We became good friends and she offered me an internship, and I moved out to New York that summer.
My eyes were totally wide open. I didn't even really know what styling was at that point. But for my first photo shoot, we were shooting Giselle for the cover of Japanese Vogue in couture Gucci shot by Mario Sorrenti; it was the top of the top from the get-go. I really didn't know what anything was or what any of these brands were, but I had a hard work ethic and the magazine offered me a job. I rushed back to San Francisco, finished my degree, and then went back to New York the day after I graduated.
I was there for about five years. I did everything from ad campaigns to editorial to covers to runway to catalogs to personal styling, and I loved it. It was inspiring and exhausting. Through all of it, I learned that the pieces I always gravitated toward were vintage. There was all this incredible fashion around me, but all I really cared about was cool vintage and old jeans.
After four years in New York, I made my exit back to California. I had no money to my name but I bought a vintage Airstream, renovated it, and started a mobile store. I did that for the first year of Born to Roam. Now, the Airstream has become a guest house, and my focus is on stocking stores, doing events and selling online.
What's your sourcing process like?

I work with wholesalers to find the bulk of the stuff I buy. There's still a dozen or so wholesale vintage warehouses around the country, and they're kind of the best-kept secrets in the game. A lot of them don't even post their business online; you need to know someone to know someone to get in there. So when I need specific stuff, like LL Bean workwear from the early 80s, I know I can get a specific assortment of that through the wholesale vintage warehouse.
In general, estate sales are my favorite way to find things. Going through somebody's home and possessions and all of the relics of their life is so incredible to me — to see how this person lived and what they surrounded themself with.
Thrift stores are great. Any day of the week, I definitely go into every thrift store I pass. But it's hit or miss. Sometimes you go in and you find some good things, sometimes you find nothing. But spring and summer are my favorite because that means garage sale season. One person's trash is someone else's treasure.
What time period are Born to Roam's clothes from?

My favorite eras are the 60s, 70s and 90s. Anything that's pre-60s is harder to find and it's not in as great of condition, since the materials back then were less forgiving. Plus, that buttoned-up, really tailored look is not really California. We have a much more relaxed sense of style. And anything that's post-90s, in my opinion, isn't vintage. It's just secondhand. We're still about five years away from Y2K being vintage.
How did natural dye make its way into the business?

I met Casie, who's a farmer and does the natural dye with me, while we were working at a winery together in Sonoma. She grew all their vegetables, flowers, and herbs, and I was working in their tasting room. We became friends, and I wanted to find something we could collaborate on. She grew some dye plants like marigold and fresh indigo, and she suggested that we try to use them. So we tried it on some napkins and some baby onesies — I was pregnant at the time — and it was really beautiful.
I realized that we can get cream-colored vintage thermals, painter's pants, overalls, and chore jackets and dye them. We started out doing some smaller batches and it was super successful; we had preorders before we were even done. And then I realized that white or cream things that are slightly stained — which happens, obviously, with white and cream things — could be overdyed. That really expands the types of things we can find. I cannot tell you how many times I find some incredible piece of vintage and it's stained enough that I have to pass it over. So natural dye felt like a great outlet for upcycling even more.
Overall, it's also been such a cool venue for Casie and I to collaborate on something. The farmer and the fashionista! I don't know where else we'd find middle ground.
I'm very inspired by California. I mean, I named my daughter California! I don't think I could love the place more.
How would you describe the ethos of Born to Roam?

It's the same ethos that I live by — I believe that there's plenty for all. Vintage in general is about the idea of sustainability and that there's already enough here. It makes me really sad to think about people needing new things all the time, or believing that new is somehow better, or not thinking about how synthetic fabrics won't break down, that they'll be here for hundreds of years and will wind up in a landfill. We need to reuse and mend and upcycle instead of taking part in fast fashion and overproduction.

How does California inspire you and the brand?

I'm very inspired by California. I mean, I named my daughter California! I don't think I could love the place more. I came to terms with what a Californian I am when I was living in New York. People would tell me, "You look so Californian," or, "You're so laid back." I couldn't escape the person that I was. And I didn't need to. I needed to embrace it more.
California is mountains and ocean and lakes and desert and space and wilderness. You can be outside in the sun most days of the year. There's so much incredible heritage here. And I love the versatility of California style — you can be a surfer, a skater, a mountain man, a farmer, a city girl. You can be all these things that California represents.
How have you changed since you started Born to Roam?

When I first started, I was 25 years old, and at that point in life I was so roaming. It felt so natural to collect things and create this story as I went along. It felt like what I was supposed to do. And then life goes on. In my case, my partner and I bought a ranch, we had a baby, and then we got married, so we kind of did it backwards. Since then, I have become less roaming, but I still feel like I'm born to be that person.
It feels good to be in different places and absorb different cultures and collect different things as you go, and I know a lot of people can relate to that lifestyle. As millenials, we do feel so curious about the world, and we want to go to all these places, whether it's Joshua Tree or Jerusalem. In light of the coronavirus right now, it's not for this moment, but in general. But that feeling of roaming felt, and still feels, like an extension of my personality and what I'm passionate about.
What are your hopes for Born to Roam going forward?
I would love to get deeper into reconstructing vintage. I have some basic sewing skills and some embroidery and patchwork skills, but I tend to not tamper with a lot of vintage unless I'm dyeing it. I'd love to bring Born to Roam to a place where it's not just sourcing, mending and laundering things, but also altering them to bring new life to something that's old, dated or not desirable anymore.
You recently became a mother. How has that changed your outlook on feminism and sustainability?

When you become a mother, you start seeing everything differently. For me, it was this constant state of worry about where our world is, the damage we've done, and where we can go from here. I have friends who say that they don't want to have kids because they don't want them to grow up in whatever world we leave for them, but for me, it's the opposite. I feel even more empowered now. I was raised by a really empowered, feminist woman, and I hope to raise one. My daughter needs to know that she's fierce, that she's equal to men and that the world is not her for her to destroy. We need to show our appreciation for the world, to give back, and to spend not just our time but also our money investing in sustainable methods. The greedy mindset needs to end. It's time for community and consciousness.
What I can offer my daughter most is my knowledge of clothing. There are things that have existed on this planet for 40 years, and they're beautiful and they still deserve more wear. I hope that by teaching her what I've learned, that she can put that practice into her own life. I hope that the majority of youth like California, my daughter, will care more about where things come from. I have a lot of hope.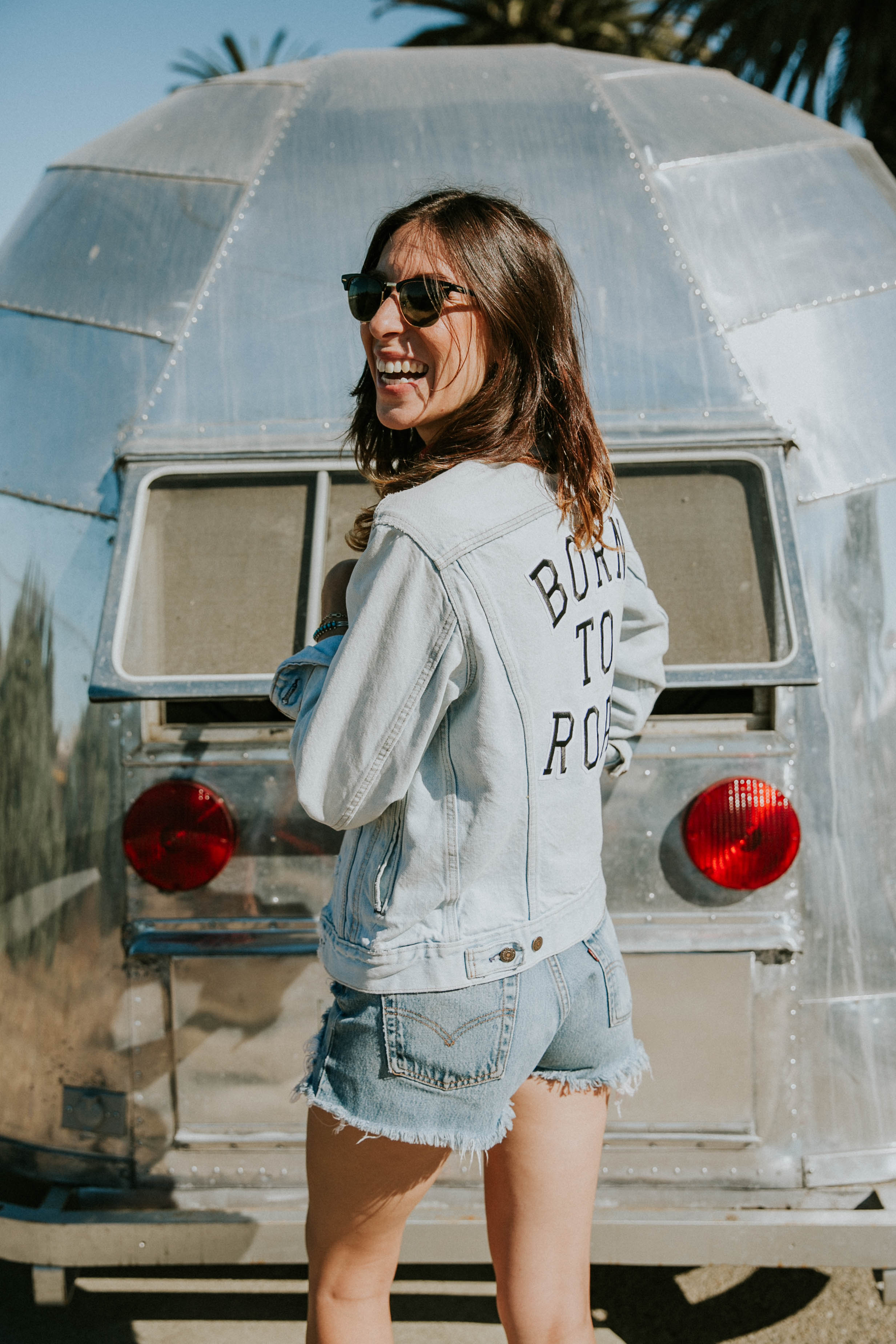 More from

Born to Roam.