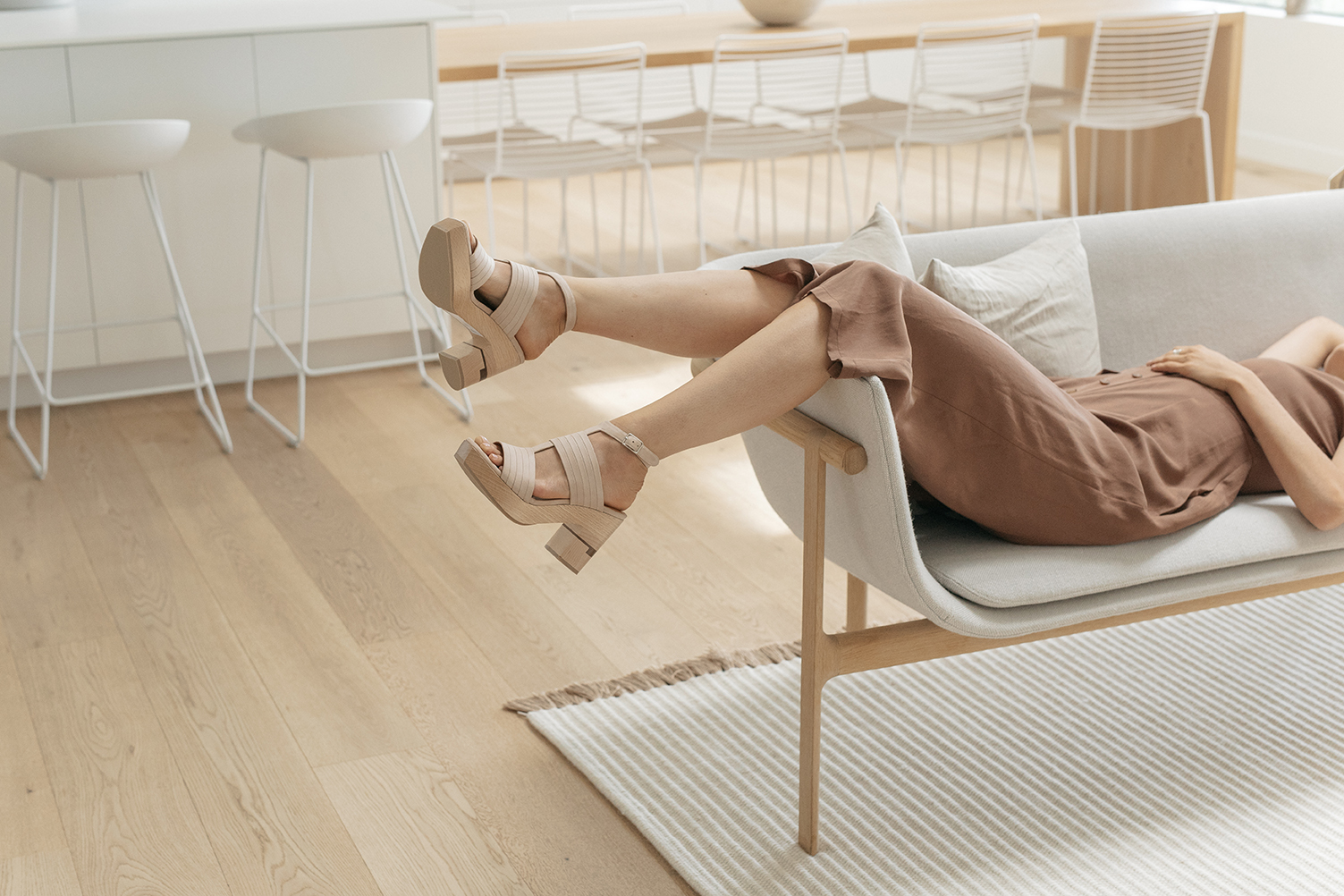 Coclico: Behind the Brand
Interview by Devon Lach
Photography by coclico
Born from a lineage of shoe makers, Coclico was in some ways an accident, a journey of self-discovery that landed its founder, Sandra, back at her roots.
Even before joining the company, Diana Haber (now the brand director) says Coclico always had "an oversized presence in her closet." The two met in 2003, while Diana was a buyer for another retailer, and became close friends. After a decade of friendship, Diana Haber joined as the brand director. Most of the time she works from her home in Montreal, just a hop away from Coclico's New York City base. She talked to us holed up in her bedroom, while her husband was teaching in the next room.
Where are you sitting for this interview?
My husband is a teacher and he's doing a lesson with his students from the living room, so I'm holding up in the bedroom with our beagle who is snoozing away. It's a compact but peaceful space with a little balcony off of it. I work from home 90% of the time as it is so I'm at ease with it, 100% paperless, and very organized.
Describe the outfit you are wearing.
I'm wearing a burgundy Alex Mill jumpsuit, its heavyweight cotton and long-sleeved. It's not quite warm here yet so it's a good transitional piece and the right thing for walking the dog and working from home in comfort. I also have wool socks on and have been wearing flat Coclico boots when outside.
I throw on some earrings for video calls. I'm excited that the weather is about to break, I've been living and breathing our SS20 season but haven't had an IRL opportunity to take it for a spin. I'm always a fan of summer slides, they're the jumpsuit of shoes - effortless and cool. So no surprise my shoes this season will be the Spencer slide.
How did Coclico start?
Sandra Cancelier founded Coclico in 2000—this is actually our 20th anniversary! Her family owned a shoe factory in a small town in France, so she grew up very much in the world of footwear production. She moved to NYC in her 20s with the goal of self-discovery, in that process she came to realize shoes were in her blood.
While her interest and knowledge in shoes was bred into her from childhood, her family's business was quite different from what she had in mind to do. They made shoes for large retailers, she wanted to develop a full collection that was traditionally made but with the modern woman in mind. She took a small loan, made some connections in Spain and hit the road running.
She opened our Nolita shop in October 2001 (it was actually scheduled to open September 11, 2001). We opened our second location only last year, so slow and steady! We don't work on a traditional growth model, we're more concerned with not overproducing and running a tight, sustainable ship.
What prompted you to go down a path of ethical and sustainable fashion?
From day one, traditional craftsmanship has been front and center. Knowing our makers and their suppliers was of immense importance if we were going to produce shoes of the highest quality. This commitment to traditional ways—one that led us to keep production in Europe—also made embracing the concept of "sustainability" much less daunting.
But the idea of sustainability came into focus as part of our decision-making process when Lisa (Coclico's long time designer) read
Cradle to Cradle: Remaking the Way We Make Things
by Michael Braungart and William McDonough. From that moment on, we began to tread a little more lightly, thinking long and hard about every design and production decision.
Leather is a controversial fabric in the sustainability world, both seeming more sustainable in some ways and less sustainable in other ways than the alternatives. Why did you decide to use leather instead of a leather alternative?
The brand has always been focused on making shoes in the traditional way and that includes the use of leather which has many positive attributes for wear. When the company started producing shoes 20 years ago, there really weren't viable alternatives available that met our standards of style and quality and while today there are some more options coming to the market, we still feel we're not able to actualize the collection as we envision it and our customer expects from us using alternative materials.
This answer doesn't work for everyone, but as you've pointed out, sustainability is complicated. Instead, all our leathers are a by-product of the meat industry and we have chosen to work with leather sourced from tanneries accredited with environmentally considerate tanning processes. By nature, leather decomposes 10 times faster than petroleum-based products. We are always researching new materials that we can work with to expand our sustainable practices and maybe one day that will include non-leather options.
Tell us about the other materials Coclico uses.
The other key material we use for our shoes is wood. We take a sculptural approach to the design of our heels and clogs, working exclusively with wood—marrying traditional shoemaking techniques with modern, thoughtful design. Each one of Coclico's wood heels is BM Trada certified for chain of custody, made from wood with the FSC Mark of Responsible Forestry, and is PEFC certified for forest management. Ensuring the highest ecological, social, and economic standards for the entire supply chain, straight back to the forests.
Tell us about the privilege of choosing wisely.
Good question. We make our shoes with every consideration given to the quality of materials and craftsmanship, this is a privilege we are able to exercise as a small, independent company with no one to answer to. We are only responsible to our own aesthetic and ethical compasses.
If we take that philosophy down a level to what we bring into our homes, we believe that a few well-chosen items have much more value than many items that merely mark purchasing power. Not only is it a more environmentally friendly way to run a household, but the process of taking time to really consider the pieces you want really helps increase the pleasure in ownership.
For those of us who value living in beautiful spaces and having beautiful pieces, the joy that we get from these things is only amplified when we're proud of the consideration that went into obtaining them.
How has being a woman-owned company impacted the brand?
It's never been anything else that we can compare it to. We make a product that is primarily purchased by women, and we feel like our own attachment to and use of that product makes us more successful in serving our customers. I would say there is a lot of value in personally relating to your customer base.
What is your favorite piece you've released and why?
Oh, I have so many! If forced to pick I'll go with our Narwhal pump. It really encapsulates the brand. It's timeless, versatile, practical, feminine, unique, and fits like a glove. The thing that makes it stand out for me as a merchandiser is that it looks perfect in every color we have made it in over the years. I think that is the secret to its longevity, the silhouette never feels old and we can reinvent it every season with color.
What does the future of Coclico look like?
Short-range, this fall will be our 20th-anniversary collection and we plan to enjoy and celebrate that milestone. Long term future planning is all good and well but if we've learned anything from the current state of the world it's that things change.
Our goal is to be prepared for the unknown but not beat ourselves up for not being clairvoyant, to identify the things that are out of our control and not waste energy on them, and to focus that energy on what we do have power over. We're going to have to adjust to the changes in the economy. The hope is that our entire chain will shift and adjust together— because 2021 will probably look a lot different from 2019. We all have to be flexible and understanding with each other.
Diana HAber is the Brand Director of Coclico. SEe their full Collection
Here
.