Leather vs. vegan leather, is one ultimately more sustainable?
IWritten by Casey Dworkin of Sylven New York
Photograph By Devon LAch
There is a rather polarizing conversation within the sustainable fashion movement when it comes to the leather vs. vegan leather debate. But is one measurably better for the environment than the other? Certainly, vegan leather must be more sustainable, right?
Since leather is a co-product of the notoriously harmful meat industry known for its contributions to deforestation, water and land overuse, and greenhouse gas emissions. Or is leather actually more sustainable than vegan leather since vegan materials are made predominantly from petroleum based fossil fuels that produce hazardous chemicals and never break down at their end of life?
In short, you can ask this question to five different people and still get five different answers. So much of the information available is written with an agenda, and without a true one-to-one comparison. That is to say, that not all animal-based leather and not all vegan leathers are created equally, and the vast majority of the sources reporting on the topic are coming in with bias.
As a sustainable designer that has spent more than four years researching, sourcing, testing, and producing shoes with the most sustainable versions of both animal-based and vegan leathers on the market, I am here to say that the leather industry AND the vegan-leather industry as a whole both get failing grades. And we're going to break down why that is, see where there is room for improvement, and then finish up with some good news.
A closer look at the leather-industry:
Shoes have been made out of leather for more than 5000 years, and for good reason. Leather is an incredibly strong, comfortable, durable, and breathable material. It is malleable, which makes it easy to work with, and it's known for its lifespan. In fact, many leathers are even advertised as getting better with age because of how they patina, or wear in. Leather has the ability to soften over time, and adapt to its use; think, a worn in leather baseball glove, or an aged saddle. If you just look at material properties alone, leather is for sure a sustainable frontrunner. But in terms of sustainable practices, the real place to focus your attention is threefold.
First, you want to look at how the cattle are raised - the largest culprit when measuring the environmental impact of leather. When you break it down, an overwhelming number of statistics about the leather industry actually refer to agriculture and farming.
Cows are the most carbon-intensive part of the food industry, being responsible for 62 percent of agricultural emissions.
There are a variety of regions that specialize in leather production, and it's important to know where your leather is coming from, as each region has differing regulations. The key is to focus on a transparent supply chain, and find tanneries that receive certifications and ratings that help to monitor and rank things like land use and water treatment. Certain regions are notorious for having incredibly harmful practices, and when the leather industry is spoken about at large, most of the time the worst of the worst regions and tanneries are the ones we hear about.
Secondly, you want to look at how the leather is tanned, or treated. Leather tanning can be a very chemically intensive process, and tanning is necessary in order to stabilize the protein of the raw hide to make it applicable for commercial use. A process we have advocated for in our past production is called vegetable-tanning. It's one of the oldest forms of leather treatment and it uses natural and plant-based materials like tree bark and spruce to prepare the leather instead of chemical-based ingredients like chrome.
Chrome is one of the most toxic chemicals used for leather tanning, and chrome-tanned leathers make uo
70-80%
of all leather on the market. The vegetable-tanning process uses far fewer chemicals, and because it's done with natural ingredients, the final leather product remains biodegradable (the same cannot be said for its chemical chrome-counterpart.) Vegetable-tanning also reduces the amount of chemical run-off in waterways. But it is also important to note that while vegetable-tanning requires fewer chemicals, it can use more than 10 times the amount of water as chrome-tanning.
The third important factor to take into consideration is the "byproduct argument". Perhaps you've heard some people argue that leather is a byproduct of the meat industry. It is particularly important to note that this can be true, but is not always true. Many will argue that instead of being a byproduct, a more apt name is co-product. In many regions, cows are raised in poor conditions exclusively for their skins. However, in many regions known for both leather and meat production (take Italy for instance) the leather is certifiable as a byproduct. And while studies have shown that as demand for leather has fallen over the past decade,
the global demand for beef has risen
.
Our biggest leather takeaway:
If you just look at the material alone, the properties make for a great sounding sustainable material - naturally derived, and able to break down at the end of life. BUT the real focus when it comes to the environmental impact should not be about the actual material of leather, but instead the process of creating leather. If you're a lover of leather, seek out transparent tanneries that openly share their methodologies, and find brands that can offer certifications and or that regularly visit their manufacturing partners. Look for vegetable-tanned leathers, and take good care of your products, as they can often last a lifetime - and buying less is a helpful way to reduce your impact.
Now let's look at vegan leather:
The vegan leather industry is set to be worth
$85 billion globally by 2025
. As a rapidly growing market, new developments are constantly on the horizon. But up to only a few short years ago, the term "vegan leather" was used as a euphemism for what we've come to know as "pleather", or plastic leather – a fully synthetic leather imitation most often made from
Polyvinyl chloride (PVC) and polyurethane (PU)
.
Plastic has been one of the main components of vegan leather dating back to as early as the 19th century. PVC and PU are predominantly made from fossil fuels like petroleum, and are cheap, versatile, and widely available. They can imitate a variety of properties of standard leathers such as look and feel, and are less expensive to produce.
But there is good news! Perhaps you've heard of some of the new plant-based "leathers" available on the market such as apple (one of our personal favorites), pineapple, mushroom, orange, cactus, or even grape.
The process of producing these synthetic vegan leathers releases a host of
hazardous chemicals
– synthetic fibers in fashion are currently the number one leading contributor of
microplastic pollution
. One additional danger of plastic is its inability to break down at the end of its life. It is not nearly as strong as leather and therefore has a much shorter projected lifespan, meaning that a person may own many more vegan leather items in their lifetime as compared to animal-based leather. Once the material reaches the end of its life, it will remain in landfills for hundreds of years, far outlasting each and every one of us.
But there is good news! Perhaps you've heard of some of the new plant-based "leathers" available on the market such as apple (one of our personal favorites), pineapple, mushroom, orange, cactus, or even grape. These materials are derived mainly from plant and bio-based sources, and use a significantly reduced amount of petroleum.
These new vegan leathers are paving the way for sustainable material innovation, and many of them are partially or even fully biodegradable. Additionally, many of the plants used within the production of these new vegan textiles are highly renewable, and or byproducts. For instance, apple leather is made using organic apple waste (residual apple cores, seeds, and skins leftover from apple juices and jams) which helps reduce the amount of organic waste that goes to landfill.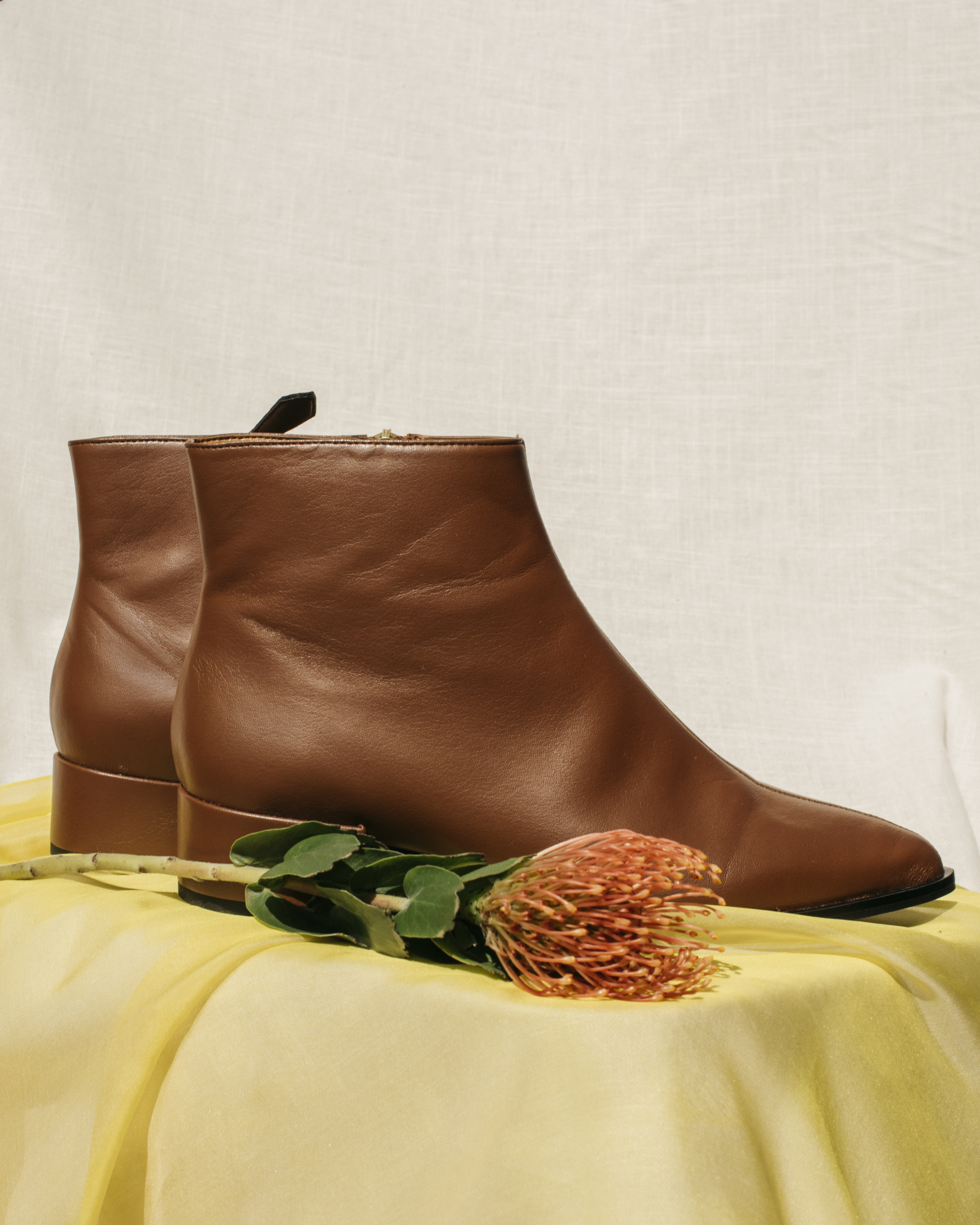 But while new cutting edge materials are arriving on the market, it's important to note that the term "vegan leather" is still a catch-all for any non animal-based textile that mimics leather. The vast majority of vegan products available are still made with PVC and PU, and these materials are notorious for their shorter lifespan (which in turn means more waste).
Additionally, while plant-based and bio-based solutions are rapidly developing, they are often not 100% biodegradable. Even our beloved apple leather is still mixed with a percentage of polyurethane to help the material keep its structure. It can be really easy to get swept up in the plant-based lure, and while these blended materials are an amazing step in the right direction, they still aren't perfect.
Our biggest vegan leather takeaway:
Look for plant-based, bio-based, and recycled content as opposed to heavily synthetic materials, and try to consume as little plastic as possible. Aim to take proper care of your vegan leathers to help increase their lifespan. Understand if the product is biodegradable, and if not, think about what will happen at the end of its lifecycle. If the product isn't biodegradable, seek out companies like TerraCycle who have the ability to responsibly recycle more difficult items like fashion waste.
In conclusion:
Instead of focusing on the animal-based leather and vegan-leather industries as a whole, focus on traceable vegetable-tanned leathers, and new plant and bio-based vegan leathers.
When in doubt, seek out the natural. The closer you are to nature, the fewer chemicals and synthesized materials are used and the less harm occurs to the surrounding environment. Ask questions about where things come from, and what happens at their end of life.
Ultimately for us as a shoe brand, we decided that the impact of producing leather was too high for us, and we made a conscious decision to switch entirely to plant-based and vegan solutions. But this was a process, and our main goal is to encourage curiosity, innovation, and minimizing each and everyone of our environmental footprints as much as possible. Take good care of your things. And know that there is no "perfect" solution, so find what works for you.
Casey Dworkin is the founder of Sylven New York, A sustainable high end shoe brand innovating with plant based vegan leathers. Explore their full collection here.