Selva Negra: Behind the Brand
Interview by Devon Lach
Photography by Selva Negra
Selva Negra was founded late one night, in a little bar in Brooklyn. The founders, Sam and Kristen, pored over each other's designs and plotted the brand that would become Selva Negra.
The brand launched with $500, lots of scrap fabric and favors from every one of Sam and Kristen's friends. Four years later, they have both since relocated to Los Angeles but resourcefulness continues to be one of their strengths.
I catch up with Kristen and Sam while they each work from their homes in Los Angeles. Kristen is lying in her bed and Sam is sitting in her office, fully prepared for the interview with a cup of coffee, water bottle and a half drunk smoothie from earlier in the day.
So Selva Negra was founded in Brooklyn but is now based in Los Angeles, how have these two places influenced the aesthetic of the brand?
Kristen:
We met in Brooklyn through mutual friends and had a great connection. We were young and just wanted to create something. We didn't have a concept so we spent several months trying to figure it out. Coming from fashion backgrounds, we were very experimental at that time, influenced by our Latina heritage.
Once we moved to Los angeles we changed to tank tops and high waisted pants—seasonality just doesn't exist in LA the way you experience it in New York.
Sam:
I do feel like the one thing that is a through line from when we started, New York to Los Angeles is—we are ladies on the go. That kind of no fussiness, making comfortable clothes that still feel a bit dressed up.
Tell me a little about yourselves, where were you born, where did you grow up?
Sam:
I grew up in Miami, my parents are both first generation immigrants. I grew up in the heat, around the super specialized version of Latinx.
I have always questioned, what does sexy mean for women. My heritage is such a huge part of who I am, how I identify, how I move, but it has also informed my thinking in terms of what actually is sexy. That has transitioned into the strength of women vs the physical aspect of women. Something that's stuck with me in my design process.
Kristen:
I am from a bunch of different places. I am half Mexican, half Filipina, growing up mostly in California and Arizona. I spent a lot of time alone when I was a kid because my brothers and sisters were older, so I had a lot of artistic and creative hobbies. I really gravitated towards the expressive nature of fashion.
Family background has influenced me a lot. My family is not very serious so my emotional attachment to my family has been a driving factor for the brand. The brand stands for fair labor and also has a socially conscious and ethical standpoint, donating to things that we believe in.
First, we wanted it to be a cool brand. We wanted it to be very beautiful and tie in our background and our heritage. Paying for fair labor, using eco friendly materials, was part of making sure that every single aspect of the brand lined up with who we are.
How do you describe what you do with Selva Negra?
Sam:
We've been working on this actually. I wish I had my notes.
Kristen:
I would tell people Selva Negra is a Latina owned clothing brand that focuses on ethical values, eco-friendly fabrics and ties in social responsibility into our company and how we go about producing our collecting.
That was perfectly clear, no notes needed.
You mention your Latina heritage playing a large role in the expressiveness of the brand, tell me more about that. How does that come through the clothing?
Sam:
I think that it is the interesting play of what it means to be Latina, how women have been historically portrayed. There is a balance between resisting oversexualization but embracing the bold choices in color and print inspired by our cultural vibrancy.
Kristen:
What it means to be a Latina woman is loud and strong-willed. The women in my family have a very powerful presence about them. They work full time and take care of so many things. They don't always have the time to research what fashion is.
That comes across in many of the things we do. You can go into a meeting and feel strong and confident in our clothes. Matching sets, comfortable but powerful, that fit into the everyday life of the busy women.
How did you two meet? Tell me the story of founding Selva Negra.
Kristen:
Basically we were at a bar and decided we should start a brand.
Sam:
Actually before that we met on the bus ride to Upstate New York and found out we were both designers and then fast forward to that late night we had the brand conversation.
From that moment we didn't skip a beat. We sat at a bar, brought sketches to each other and started meeting every weekend. At first with no clear intention.
We were just meeting and working on this hypothetical project together. The news that Kristen was moving to LA is what prompted us to show people what we'd been working on.
Kristen had a connection with a mutual friend at a small Manhattan boutique that let us use their space for a presentation.
Kristen:
I was doing production for Creatures of Comfort and became friends with the cutter. He had all this fabric that brands left over and just gave it to us. We probably spent $500 on the whole thing.We didn't have money.
For a month straight, we would work til 3 or 4 in morning.
For the launch our friends were models, a friend did photography, another friend was the DJ and we got a sponsor for alcohol.
In New York you learn to be really scrappy.
We were broke 24 year olds so there wasn't really any other option, except resourcefulness.
Resourcefulness is such an important part of running a small business. How has this continued to be part of Selva Negra?
Sam:
I still have a full time job and am kind of doing design direction for a media company.
Kristen actually went into Selva Negra full time a little over a year ago. She is the creative director. Working on the production side of things, creative and dealing with the operations side
I've transitioned into marketing/brand voice and customer facing things.
Kristen:
Two years ago I quit my job to do Selva Negra full time. For a while I also did pattern making. Now I just work on this full time.
As far as resourcefulness, I've always been a pretty resourceful person due to my family upbringing.
When we first started I didn't know too much about being a sustainable or ethical brand. I just knew that I wanted to pay people fairly. I saw the people who were making everything and they have such important jobs. I felt like they were never valued and we could make them feel valued by paying them fairly.
Sustainable is such a tough term for me because it's easy to greenwash. We have sustainable practices. There is so much waste in the fashion industry but there are ways to reduce the amounts of waste, use natural fibers, reusing fabrics. We make sure any part we can; we are making every effort to be more sustainable. Aligning with your core values and paying fair wages to people is really important for brands and all companies to go forward.
One of my favorite pieces is the embroidered flo jacket, what are some of your favorite pieces you've designed?
Sam:
That suit
is one of the most awesome things we've ever done! It feels so special. The embroidery is done by embroidery designer, Wells Brown. Every suit is unique because it's all made by hand.
The things that I love are the pieces you can live in. The Abbi Pant, made of heavy denim in the perfect shape. We originally designed a kimono jacket,
The Ebisu,
that I have had for years and I still love wearing it so much. It is such a great layering piece. They are both black but I feel like I can pair them with anything. I love so much of what we've made for different reasons.
Kristen:
The Sueño Jumpsuit
in a cotton lawn plaid, it reminded me of my childhood and was just the way I wanted to spend my summer—in a sheer thing that felt like I was wearing nothing. We updated it and did it again for spring. As far as shape, that is my favorite and I wear it all the time.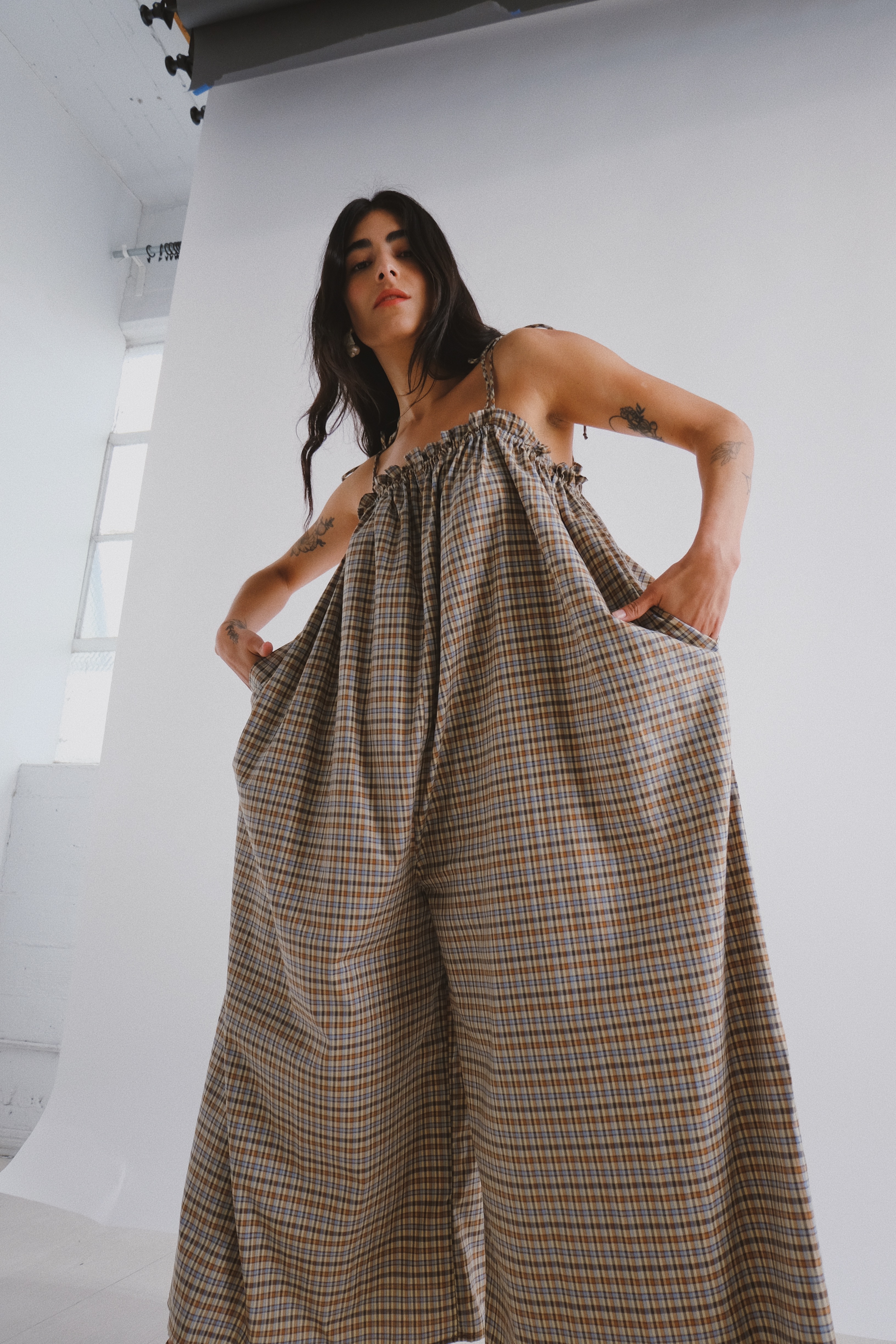 Let's talk about about Womanism
Sam:
It's an excuse to connect with women outside of fashion. People in other industries. The term womanism is feminism that is specific to women of color, the intersectionality of it.
It started off as a selfish way to connect but has evolved into a space where we can share other experiences... What is it like to be a woman in your industry?
It speaks to common struggles that we have, that show up in regardless of industry.
The pandemic has allowed us to connect with people in different ways. It was initially in person but this last one we did, she was in Chicago, so we actually sent her some pieces she was really into and she did a self portrait session. It allowed the person we were featuring to curate the imagery around it.
It's evolving as the world is changing.
Kristen:
I think we have always been about connecting with our friends in our community and this was a way for us to do that. Introducing awesome women that we want the younger generation to experience and see.
What's it like working together to design a new piece?
Kristen:
My inspiration draws a lot from nature, travel and my family, the whole encompassing in my environment. We have sketch meetings and then come together to edit each other's designs.
In the beginning everything was a new style. Now we have enough timeless styles we can keep evolving them over time.
It's always been very in the moment.
Sam:
It's really interesting because we have always designed apart and somehow we are always so aligned in what comes to the table. I think that just happens with being on the same wavelength.
We feed organically off each other so decision making happens on the fly. I want to make things I wish were in my closet. We dress differently and still it just makes sense.
What does the future hold for Selva Negra?
Kristen:
It's tough to say with the pandemic happening. We are taking this opportunity to build our direct to consumer business with leftover fabric or deadstock fabrics by reissuing things that are exciting for everyday life.
We have always been a small batch production brand but going forward we're being even more conscientious about that. Getting away from the fashion calendar, instead releasing a few new styles every few months. It allows those styles to really shine and be highlighted the way they should and ultimately create less waste.
Sam:
We have been working in a design building in downtown LA and just signed a lease for a small storefront. We are excited about the possibilities of that, we know it's distant but we have the time to make that a super workable space and to be able to host people. A step forward in terms of having a mini stand alone studio /store.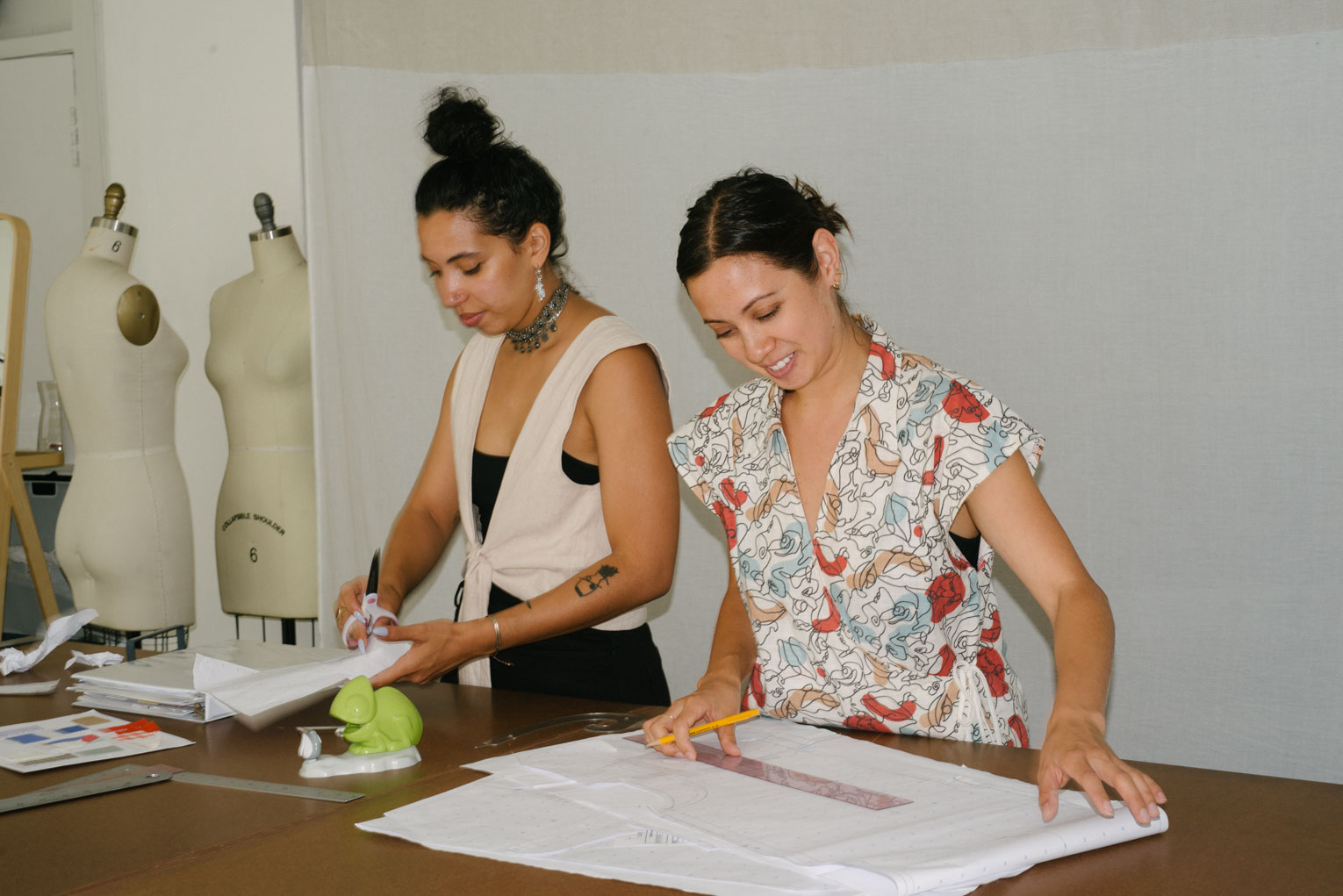 See Selva Negra's
full collection here.