Return What Ya Mama Gave Ya: Textile Composting (A Concept)
WRITTEN BY DEVONNE JACKSON
ILLUSTRATION BY KIRK JOHNSon
Photographs By DEVONNE JACKSON
The current state of fashion consciousness deeply explores and addresses all parts of garment circularity except "end of life" recycling. It is why there is a culture and brand strategy in fashion to burn and slash $38 million of unsold merchandise for the sake of preserving exclusivity.
The Environmental Protection Agency measured 16.9 million tons of textiles generated in 2017, an amount that has doubled over the last 20 years. Of that landfills received 11.2 million tons and 3.2 million tons were combusted.
MILLION TONS
. Not to give you a ton of perspective but a car weighs about one ton. Seems like the U.S. knows a bit about how to create waste but lacks the tools for innovation and management. Should we call Michael Scott from The Office?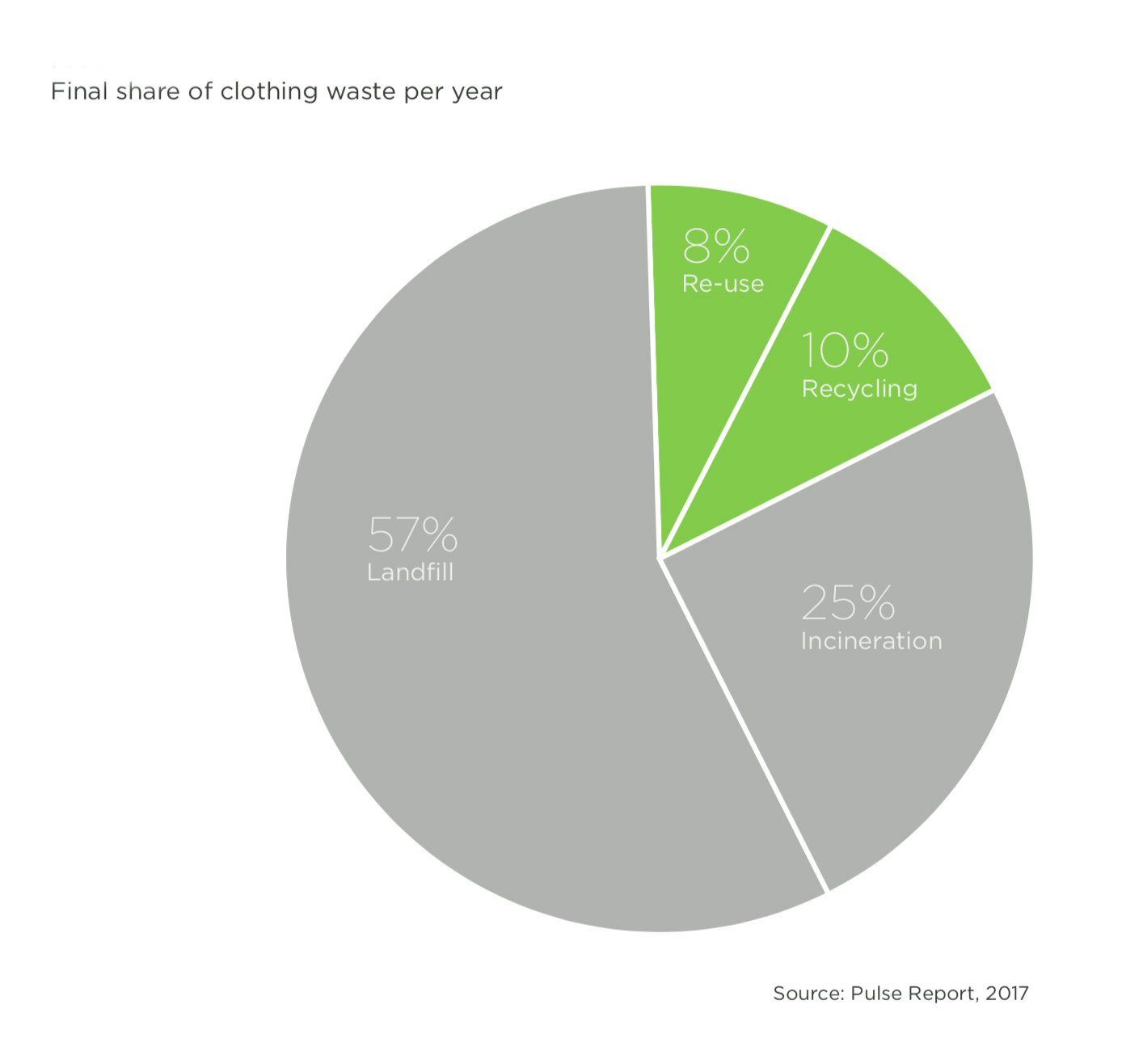 But seriously, should landfill dumping and incineration be the only options for our garments when we finish wearing them? As the industry begins to design out waste in their models and consumers try to reduce consumption and keep clothing in use with resell and donations but how can we treat this by product of overproduction as a vital asset and retain its value? Composting can be an interesting addition to the avenues of considerations.
There is a major disconnect between what we wear and our knowledge of its impact on our home, Mother Earth.

As consumers, when decluttering and refreshing our wardrobes, we don't consider the new homes of our oldies but goodies. We just want them out, quickly! By now the question isn't where they go, we know a majority is landfilled, but where could they go?
Cue Ruff Endz: No more shopping sprees, No more late night creeps, No more VIP's No more dough. We can't even kick it no more.
Is my response to fast fashion and any industry that perpetuates the 'never wear the same outfit twice' culture. There is a major disconnect between what we wear and our knowledge of its impact on our home, Mother Earth. Her waters, air, soil are all affected along with human health.
The volume of existing textiles and the gradual incline of waste is a comprehensive view of capitalism's destructive effect on the environment. It's the thread that binds the senseless deaths of garment workers, the use of child labor, the 25% spend and waste spike between Thanksgiving and New Year's Day and why toxic landfills and factories are disproportionately located in black and brown communities. Consulting new textile-to-textile strategies and returning to Indigenous regenerative practices to conserve fibers and resources are overdue.
What if your favorite white tee could turn into nature's Black Gold? Then returned to our houseplants or gardens? Radical, huh? Magical, I'd say. The Fall reminds me of Earth's evolutions. Creative in Her resourcefulness, fearless in Her journey to equilibrium and prideful in Her mindfulness, wasting nothing along the way. Returning cotton to soil, offering nutrients to Source, as a African American Urban Farmer of Carribean roots growing in Brooklyn, it's a spiritual concept for me, ancestral, even, about longevity and gratitude.
When we throw away a bruised or imperfect fruit does it lack in its nutrients? Even the most thoughtful person discards peels and skins which are generally higher in fiber, vitamins and minerals than the flesh we actually eat. But who wants to snack on banana peels and watermelon rinds? Processing and cycling these materials back into our gardens and farm lands captures valuable resources without pollution while increasing soil organic matter. This is composting at its core and plant fibres like cotton, linen, hemp, wool, and bamboo can degrade in the same way. Waste as a resource.
Composting is an original agricultural practice of using the decomposed carbon and nitrogen rich nutrients in the items we discard like food scraps, coffee grounds, dried leaves and cardboard. As they degrade, they release elements like carbon that helps give soil its water retention capacity. George Washington Carver taught that compost was vital to fertility of the land saying, "There is no better plant food than the things we ignore or throw away every day."
Textile sludge research completed in 2009 at Guru Jambheshwar University in Haryana, India by V.K. Garg , Renuka Gupta, and Priya Kaushik reported that vermicomposting, adding worms to your compost as conversion helpers, can be an alternate technology for Solid Textile Mill Sludge management.
Here in New York, one of the fashion waste capitals of the world, two Fashion Institute Of Technology students, Laura B and Willa T., developed an on campus muslin compost system transforming student designers waste into a rich humus in 2015. Research coupled with numerous designers, scientists and tech companies developing bio garments. This proves the space is vast and circular initiatives have the capacity for leveling up.
After receiving a Citizens Committee of New York compost grant in 2018, I began a 3 month at home pilot experiment, composting one 100% cotton tee shirt and one cotton blend in my Miracle Grow dual tumbler and have been researching ever since. Almost all the natural fibres degraded while the synthetics materials, primarily thread, remained untouched and created web like structures found in the compost bin. Developing a scaled system to breakdown natural textiles for environmental use and wellness has the potential to divert millions of tons of annual Municipal Solid Waste in the US and mountainous waste abroad. Textile composting and its impact aren't radical; it's a charge to return and push the industry and our minds forward beyond previous understandings. Mother Earth depends on it.
Want to try at home?
Please, please make sure you have exhausted all other reuse options before the compost toss. Gifting, upcycling, swapping, schools for crafts, direct giving and rag making included.
Try it out with your socks.Whether you use a bin or tumbler, fibers will act as the carbon browns, like toilet paper rolls and twigs. Then add nitrogen rich greens like food scraps.
How To:
Remove sewing thread, buttons, zippers or any metal

Eliminate any logos, slogans and tags.

Be mindful of heavily dyed items.

Shred your worn socks into small pieces, the smaller the quicker to break down.

Throw these into your compost bins and wait for the disappearing act to begin. **Depending on your system will decipher time of breakdown but expect at least 4- 6 weeks.

DEVONNE JACKSON is An Urban Farmer and the Founder of
Positive Obsession
, A Sustainable Fashion Collective.