Vesta: Behind the Brand
Interview by Devon Lach
Photography Provided by Vesta
Kendall Willson wants to take animals out of the fashion equation. What started as a personal wardrobe transformation turned into the fashion brand, Vesta. For years her dining room table was a make shift studio space, covered with dress patterns and bolts of fabric. Kendall delights in the process of process of pattern making, always making the first pattern of a new style herself.

Kendall took some time to chat with us about the unique vegan fibers in her fabrics and the way other worlds inspire her designs.
Describe when you knew you wanted to start Vesta...what was the path that got you here?
When I was getting my fashion design degree from Parsons in NYC, about ten years ago, I started becoming interested in sustainable fashion–which was barely a thing back then.
As I did more and more research into fabrics and production, I realized not only did I want to wear more organic fabrics from sweatshop-free brands, but I didn't want to wear animals anymore. At the time it felt impossible to find clothes that were modern, vegan, eco-friendly, ethically-made,
and
affordable all at the same time! I felt like I was the only one who cared about all that stuff.
You can't really argue that we
need
to wear animals.
In three words describe the ethos of Vesta?
Innovative, compassionate, feminine (not meaning just the feminine gender, but the feminine energy of caring for the earth and its inhabitants!)
What sustainable or feminist efforts does Vesta make?
We only use fabrics that are eco-friendly in some way, like an organic cotton, sustainable hemp, or innovative Cupro, which is made from cotton waste and feels like silk. Also, I consider buying ethically-made clothing a feminist act. So many women and children are taken advantage of in the fast fashion/sweatshop model.
What is your favorite piece you've released and why?
I personally love our New Moon wrap dress. When I started all the sustainable fashion was just hideous. I really wanted to create a line that anyone would like and would find it minmalist and feminine. Classic pieces and colors.
As a person I am really cheap so when I buy a piece of clothing I want to be able to wear it in many ways and for many different occasions.
Where do you find inspiration?
I like really simple things. Star Wars A New Hope has great fashion! Beautiful long wrapped pieces.
I tend to favor classic shapes, colors, and fabrics that can last and be a part of your wardrobe for years to come. I find a lot of inspiration from simple and well-built styles from the 70' and early 80's and from traditional Japanese clothing.
What is your advice for people that want to learn about sustainable fashion?
Start by reading labels and learning what different fabrics are. Overtime you get to learn that this fabric is more sustainable. Just being interested helps so much.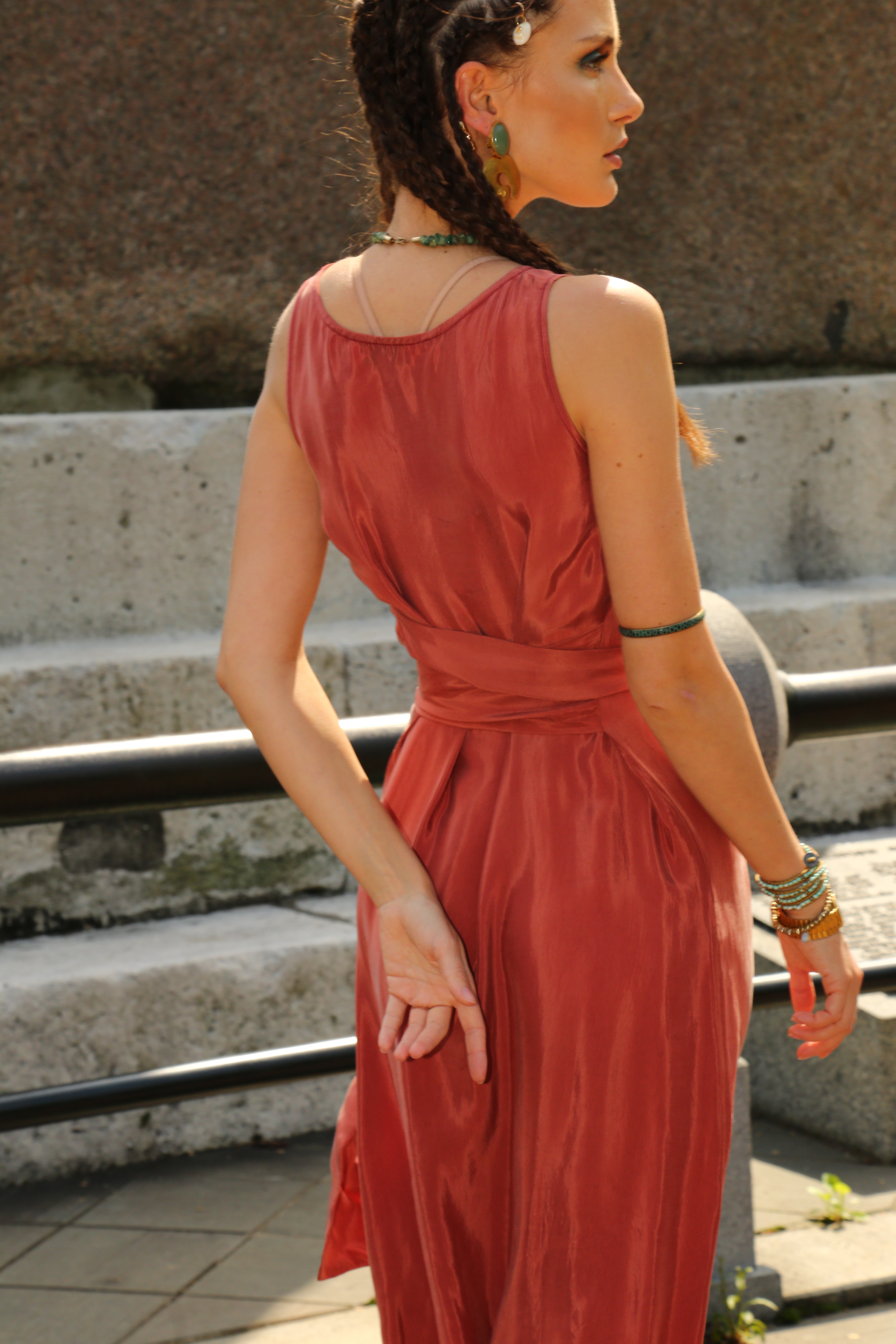 Follow
Vesta's upcoming styles.